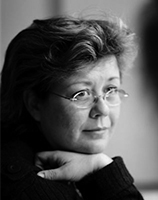 Heidi Schröck - Weinbäuerin in Rust
Heidi Schröck
Rathausplatz 8
A-7071 Rust am See
Tel.: +43-(0)2685-229
www.heidi-schroeck.com
heidi@heidi-schroeck.com

Would you like to get to know Heidi Schröck?
"Don't look at what others may do,
for there are so many of them.
You'll get caught up in a game,
that will never end."
A saying written on an antique tablet of wood that hangs in the entryway of the winery makes it instantly clear what kind of place this is. Here, with Heidi Schröck, at Rathausplatz number eight in Rust.
Next to the manifesto on wood also hang a pair of worn out boots, suspended on the wall by a string - ancient witnesses to a winemaking generation that has long since disappeared, and at the same time symbolize Heidi's very contemporary attitude to the agricultural craft of winegrowing. Another way to say it: nothing good comes without effort.
Heidi Schröck is sometimes unconventional, and yet she is a woman whose all-embracing kindness allows social openness, or even demands it. Heidi is very open. Always.
She has two sons who've turned out fantastically well; who, also in a very open way, tell stories amid kitchen table conversations about Scandinavian rock-musician wine fans. Heidi, ever the advocate of balance in all aspects, is a member of a choir.
There is a lot you can learn from Heidi:
"In the 50's, Hollywood films were made in Rust. With Yul Brynner and Deborah Kerr. During that time my parents planted the vines for my Blaufränkisch Kulm. In the 60's - that's about how old the Zweigelt vines on Ruster Berg are - Klaus Kinski was carried through the reeds at the lakeshore in one of the scenes. And they even dropped him once."
Just as immortal as the classic films from back then are Heidi's internationally renowned Ausbruch wines from the best vineyards in Rust. Just as the estate is in which they are made. Sometimes during a conversation Heidi says without warning things like
"600 year old wall construction",
and suddenly one understands why this word even exists: immortal. At the same time one understands the essence of Ruster Ausbruch. And how it's all connected to the wine's lingering finish on the palate.
Dear reader of these lines, if you're beginning to think Heidi is a person who enjoys talking, you're absolutely right. She likes to talk about her white wines, for example. About elegant Weissburgunder and voluptuous Grauburgunder, about her relationship with Muscat and her love of Furmint.
And also, of course, about the legendary "film crew seven":
"There were some extras chosen from Rust for one of the films, and they were sitting here behind the big door and waiting to be called for their scene. It was a hot day, they had acquired a barrel of wine to quench their thirst, and well, you can imagine. At some point the director yelled "action!" and the door swung open..."
Also important to mention is that Heidi Schröck also makes extraordinary, refreshing Rosé and first-class sparkling wines à la methode champenoise. You can learn more about all of this the next time you visit her at home, not far from the little hunting lodge in the vineyards of Rust that was actually mistakenly bombed once.
But that's another story.