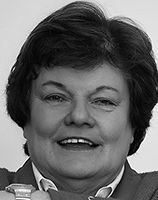 Helma Müller-Grossmann
Weingut Müller-Grossmann
Lindengasse 25
A-3511 Furth-Palt
Tel.: +43-(0)2732-83146, +43/664/1504611
www.mueller-grossmann.at
office@mueller-grossmann.at

At the foot of Göttweig Mountain, in the traditional wine-growing region Kremstal, Helma and Marlies Müller-Grossmann cultivate 10 hectares of vineyards. The ultimate aim is to create delight - in harmony with nature and top-quality. The roots for this are based in the vines of the vineyard which is cultivated gently and in consideration of climate, soil and location. The wine gets its final touch in the cellar and thus its individuality - from the hand of Helma and Marlies Müller-Grossmann.
Life in the circle of nature.
White wines are in the limelight of delight - as well as one rosé wine from Zweigelt. This is also made possible by the great variety of soils - and the natural interplay of warm days and cool nights. A major part of the winery's single vineyards are located on loess soil as well as on stony, nutritious, not too heavy soils.
Plain stylistics and pronounced fruitiness characterize the wines. Besides classics like Grüner Veltliner, Riesling or the Burgundy varieties, Helma and Marlies Müller-Grossmann have a heart for specialties like Gelber Muskateller or Frühroter Veltliner.
In the circle of vines - the joy of living.