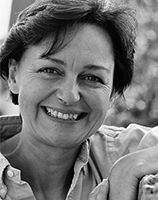 Ilse Maier
Weingut Geyerhof
Oberfucha 1
A-3511 Furth bei Göttweig
Tel.: +43-(0)2739-2259
www.geyerhof.at
weingut@geyerhof.at


Approximately 19 ha of the Geyerhof vineyards are situated in the best sites of Kremstal- area. The estate is in ownership of the family since the 16th century and was taken over by Ilse Maier in 1986. Since 1988, Ilse and Josef Maier are working after the principles of organic viticulture.
The two top varieties in Kremstal, Grüner Veltliner and Riesling, are cultivated with great respect. Each single vineyard is harvested separately to get clear, straight and characteristic wines.
Tending traditions, accepting innovations - this is the motto of the Geyerhof wines and the lifestyle of the family. The whole estate has been renovated with great care. On the Geyerhof wine determines life even as joie de vivre determines all actions.
Ilse Maier has compiled detailed information on organic viticulture in her book "Praxisbuch Bio-Weinbau".