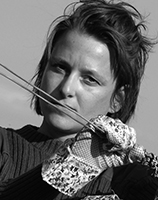 Jutta Kalchbrenner
Weinbau Jutta Ambrositsch
Dannebergplatz 12/2
A- 1030 Wien
Tel.: +43/664/ 500 60 95
www.jutta-ambrositsch.at
jutta.ambrositsch@gmx.at

Jutta Kalchbrenner, the most recent addition to the 11 women, is from Carinthia, Burgenland and Vienna. Fittingly, her vinophile passion is called "Mixed Harvest" (Gemischter Satz or cuvée) "Viennese Mixed Harvest," to be exact, and to live up to the reputation of Slow Food Presidio-Products. But also mineral, juicy rieslings of German heritage and Grüne Veltliner of the most disarming composition enrich her portfolio.
In 2004 she gave up her position in advertising to begin anew in her own vineyard, where she put the greatest possible hands-on effort into coaxing grapes out of the partially ancient vines. These can be fermented without using selected yeast, ensuring as much typicality as possible of the unmistakable Viennese terroir.
In the mean time, Jutta Kalchbrenner now farms approximately 3 Hectares (7.5 acres) in prime locations in Nussberg, Grinzing and Sievering. The last is also the locality in which Jutta Kalchbrenner's rare prime-wines can be enjoyed at the source. She runs the 400 year old Kamaldulenserhof as a wine tavern 10 weekends a year, calling it the meanwhile legendary "Buschenschank in Residence."