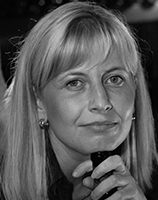 Birgit Eichinger
Weingut Birgit Eichinger
Langenloiserstrasse 365
A-3491 Strass
Tel.: +43-(0)2735-5648
Fax: -56488
www.weingut-eichinger.at
office@weingut-eichinger.at


Birgit Eichingers Winery looks like a stately gentleman's home, but in in this case a woman's house is her castle – with a vineyard to boot.
The winemaker – now the owner of half a hectare (1.2 acres) of land in the high-end region of Ried Lamm – has been the head of the spruce winery at the foot of Gaisberg in Strass since 1992, now triple the size of her original enterprise. Today she can look back with pride on her accomplishments since then. After all, 50% of production is exported, this, no doubt, is partially due to the wines' numerous international awards. Birgit Eichinger loves wines with strength and elegance. In addition she looks for individuality, for character. She therefore sees it as her greatest challenge to give each and every wine her unmistakable signature. There is one thing of which she is absolutely convinced: great wines are not created in the mind alone, but also with heart and gut feeling – a high standard, which she meets on every level.
You wouldn't be wrong to say that her wines express women's strength. However to write that you can taste a female hand in a wine-maker or cook's creation, is not only a platitude, but misogynist, because it certainly diminishes a woman's achievement. So, how about we formulate it differently? Birgit Eichinger vinifies her wines like a gentleman and a scholar. But when you then taste the wines, you sense something charming, seductive, sweetly alluring, all traits that – to remain politically correct – adhere far too seldom to men.
She is often written of as the "constant star among Austria's top wineries," and she definitely does justice to that description. The wine maker from Kamptal has worked her way to the top as one of very few women in the industry in Austria and has made quite a name for herself. As a member of the well-known association, "11 Women and Their Wines" she has stepped up to solidify the local value of woman wine-makers and – by way of animated discourse with her colleagues – to keep thinking outside the box.
Not only the tasteful exterior of the winery is worth seeing, the subterranean "Wine Library," which Birgit Eichinger calls the winery's memory, is key. Every year, on the last weekend of April and the first weekend of May you can visit the "library" to taste her matured wines from magnum bottles.
All this requires great dedication, but also lots of feeling and love for wine as a cultural asset. The result is a collection of elegant, expressive wines with lots of personality. You could just say, Birgit Eichiger style!